CLINCHING OF METAL PLATE

CLINCHING PROFILES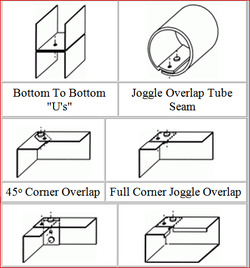 Clinching, or press joining, is a high-speed mechanical fastening technique for point joining of sheet metal, using no consumables. With clinching, the sheets are clamped between a die and a blank holder, see Fig.1 (1). The punch locally pushes the sheets down into the die (2). The sheets are squeezed between the punch and die expelling material sideways (3) forming an interlocking button (4). It is this interlocking button that holds the sheets together. Alternative process variants use a solid circular die or a rectangular punch and die which allows partial shearing of the sheets. Clinching is a fast and simple single-step technique requiring no consumables or pre-drilled holes.

Current status
Clinching is a fairly new technology; used mainly for high-volume, low specification applications. It is used for joining metal sheets of 0.5 to about 3mm in thickness, up to a total joint thickness of about 6mm. As the joint is made by local plastic deformation of the sheets (by pushing them into a button), the materials should have sufficient ductility to avoid cracking. Clinching can be used on coated and painted materials, and is suitable for joining dissimilar materials. Typical materials that can be clinched include:
low carbon and micro-alloyed steels
zinc-coated, organic coated and pre-painted steels
stainless steels
lightweight materials, such as ductile aluminium alloys
Clinching is mainly used for joining steel sheet for white goods, heating and ventilating and automotive part manufacture. There, it replaces techniques such as resistance spot welding as well as the use of other mechanical fasteners, such as riveting.
Important issues
Clinching is a simple technique, with few important process variables. However, as clinching is mainly a proprietary technique, there are slightly different variations. This may give different properties, which are presently not very well documented.
Clinching forces are high, typically 20 to 70kN. This demands large stiff C-frames to position and hold the press and die well-aligned on either side of the sheets, particularly if a long reach machine is required. Some low force systems are available for semi-piercing clinch types, where part of the sheets are cut/pierced. For long reach robotic applications, lightweight equipment would be required.
As many industries (e.g. automotive) are driven by weight-reduction, manufacturers are moving towards thinner and stronger materials. This may affect the ductility of the sheet materials, impairing their suitability for clinching. This, however, may be overcome by further optimisation of the process cycle and the punch and die design for specific materials and applications.
Benefits
The benefits of clinching include:
Low cost, because of low energy, single step process using no consumable
Fast and easy automation
Long tool life (typically 200,000+ joints)
Possibility of making so called hybrid joints using adhesives and clinch joints together further increasing joint stiffness, and allowing a leak-proof joint to be made
Visual assessment of the joint is possible by checking the button dimensions and quality (in addition, in-process monitoring of force versus displacement can be used as a quality control measure)
Small Health & Safety implications, because clinching generates little noise, no fume and no heat
Risks
The operator risks of clinching mainly result from trapping hazards. However, this can in general be avoided by using two-handed or fully automated operation. Furthermore, because most systems are hydraulically powered, safety goggles should be worn